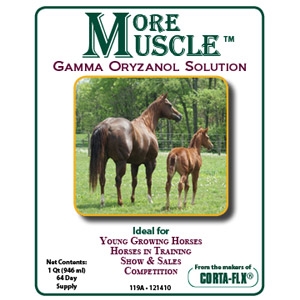 Corta-Flx®, Inc. More Muscle® Muscle Solution
Look no further than MORE MUSCLE™ Solution when MORE MUSCLE™ is needed on your sales, show and performance horses. Each 1/2-oz measure contains a whopping 1000-mg of pure gamma oryzanol.
MORE MUSCLE™ DOES NOT separate. It is very easy to feed, and is so palatable that your horse will literally lick it out of your hands. MORE MUSCLE™ is the lowest cost gamma/muscle feed supplement on the market. Don't wait another day. It's time to transform your horse with MORE MUSCLE™ Solution.